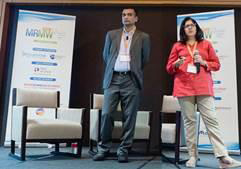 BRANDSCAPES @ MRMW APAC 2018 – June 27 – 28, 2018 at Singapore
MRMW (Market Research in the Mobile World) is one of the largest and prestigious global conferences focusing on mobile, innovation and technology-oriented marketing research. The theme of the APAC event held in June 2018 was "The Rise of Digital Disruption" and it was well attended by over 150 delegates from organisations such as Uber, Twitter, Unilever, P&G, Shell, Changi Airport, HP, Lego, Google, Abbott, Myntra and Hindware. Asha Ganesan Sen, Consulting Partner and Bharath Vaidyanathan, VP and Practice Head Big Data presented at the event.
The presentation "Conversations with Data: How not to miss the woods for the trees" talked about Jiffy, a metric BOT that democratizes data to allow you to access, explore, question and converse with data wherever and whenever you want, allowing you to use our natural inclination of stories and conversations to talk with your data as and when you want or need to, and "experience" data rather than having it thrown at you.