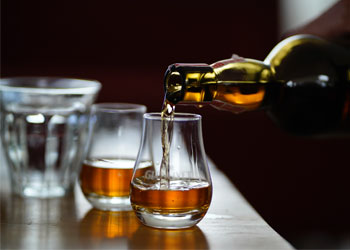 Nimble strategies for whisky in a rapidly evolving D&E market
THE CHALLENGE:
Helping a local AlcoBev manufacturer diagnose the loss of the growth momentum for flagship brand in the face of an escalating competitive environment and identified repositioning opportunities for the brand
BRANDSCAPES INSIGHTS:
The flagship brand was losing equity and while still strong on salience and trial, conversion to regular consumption was dropping in the face of an evolving consumer and other whiskey brands with stronger differentiation across functional/emotional parameters
The brand was still able to recruit (both first time drinkers and conversion from other less premium AlcoBevs like Rum and BE (local brew). Furthermore, within the whiskey category it was losing share to step up brands within the client's own portfolio
MARKETING ACTIONS:
Recast communication cues so the flagship brand repurposed to a category recruiter and feeder to client portfolio in terms of upgrade :
Effectively leverage the overarching strength of the corporate brand (synonymous with the flagship brand label and heritage)
Focus on hygiene attributes of affordability and great value backed by a strong distribution. Reinforce mental/physical availability.
Sharp targeting of the largest recruitment potential (mid to low rural drinkers) with the opportunity to wean them off cheaper AlcoBevs and introduce them to whiskey
OUTCOME:
Helped the client rediscover potential for their heritage brand thereby not only giving it purpose but also strengthening the overall portfolio and thus maintaining their market dominance and leadership position within the whiskey category.