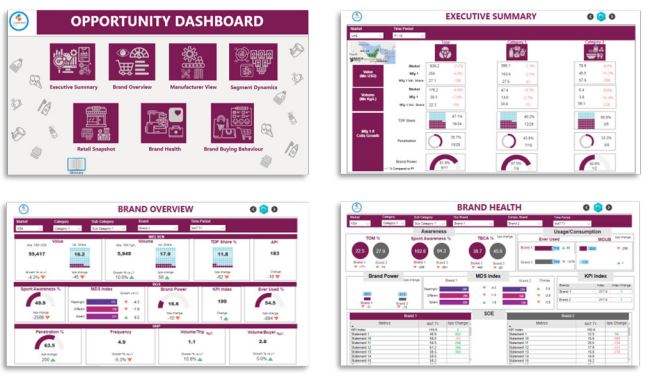 How to enable easy access to consumer and market data in a flash?
THE CHALLENGE:
The client wanted business stakeholders to have ready access to consumer and market data from retail audit, consumer panel and brand tracks across a large and complex region to ensure a single source of data for all internal stakeholders and ease the pain of obtaining this data everytime there was a need.
BRANDSCAPES APPROACH
Brandscapes created an interactive PowerBI dashboard by processing 7.7 million records in a month. The key challenge was to consolidate and process the huge volume of data from the raw database formats and present it in a user friendly and intuitive manner for anyone in the organization to access within a record turnaround time
MARKETING ACTIONS:
The robust dashboard enabled the marketing teams at a global, regional and local level to track the performance of their respective categories, markets, brands and overall organization with up to date data at their fingertips. The dashboard provided the market views, retail channel level views, key brand level measures of 6P and other KPIs The output resulted in significant workload reduction for the client's insights teams, while ensuring a one stop shop for all the consumer and market insights data needs across the organization's stakeholders ensuring data consistency for the region.
OUTCOME:
The dashboard has enabled timely access to key data for the region and released valuable time for the insights team to focus on other priorities and initiatives.