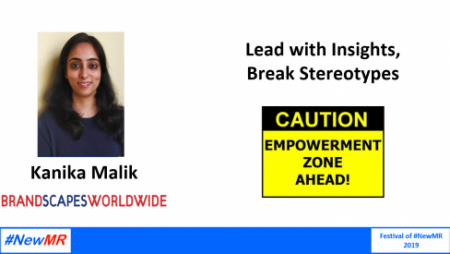 Brandscapes @ The Festival of NewMR
Director Insights, Kanika Malik presented at the Festival of NewMR on International Women's Day. Her presentation "Lead with Insights, break stereotypes" was about the role of brands and advertising in steering women empowerment, and in-turn, the role of consumer insights in enabling them to do so. She talked about the fact that while women around the world are breaking the glass ceiling, they are still filled with vulnerability and self-doubt. They do need external validation from time to time. And this is where brands and advertising play a key role. Brands, media and advertising have always played a double role – on one hand, they reflect what's happening in our society, on the other hand they are the trend setters and ever so influential in shaping our perceptions of the world we live in. They have the potential to truly understand their female audience and provide them with guidance and support.
NewMR is a collaborative endeavour, designed to help co-create the future of market research by combining the best of the new with the best of the old.
Click here
to see the recording of the session.